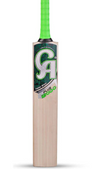 CA PLUS 12000 CRICKET BAT
Shipping calculated at checkout.
Plus 12000 lies in the mid-range of CA English willow bats. It is a six-plus straight grain bat which is a go-to product for the emerging cricketers. After its manufacturing approval by CA sports, it is being crafted by dedicated craftsmen and it is a fine response to the existing competitors it has in the industry. Talking about its structure which comprises a well-crafted sweet spot. The presence of 2020 edition styled stickers make this product more attractive yet part of the family. It is also presented to the customer in a branded bag. Plus 12000 is being considered and chosen by many emerging batsmen like Bismillah Khan and Waqas Maqsood. Haris Sohail has also used this bat in international matches. Just like Plus 20K, dragon 7 stars, plus 15000 PE, plus 15000 and other bats of the CA sport, plus 12000 bats also comes with its matching gloves and pads. Therefore, making this bat your choice wouldn't be confined to buying a mere bat but a proper designer bag and protection gears.