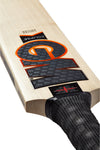 GUNN & MOORE ECLIPSE 404
Sale price
$99.00
Regular price
Shipping calculated at checkout.
Sweeping Spine Profile Creates Exceptional Pick Up

High Swell Position For Controlled Stroke Play

Traditional Full Blade Profile

HEX Grip
For help on buying the perfect bat for you, take a look at GUN & MOORE page 'How To Choose A Bat' 
https://www.playwiththebest.com/cricket/how-to-choose-your-cricket-bat.html
With the highest swell position in the GM 2020 range, nothing eclipses the Eclipse when it comes to controlled stroke play. Featuring a slight offset edge for increased power to balance ratio, the sweeping spine profile creates exceptional pick-up despite the Eclipse being the largest bat by volume in the range. The Eclipse also features the all new HEX grip, specifically engineered to offer the most grip available on the market, ensuring perfect grip at all times. The Eclipse is available in 5 sizes and 7 grades  and is made in England from Prime English Willow.
Shortened L540 Blade Design For Dynamic Sweetspot
Handle Length 310mm
F4.5 Face Profile
Slight Offset Edge Increases Power To Balance Ratio
Sweeping Spine Profile Creates Exceptional Pick Up
High Swell Position For Controlled Stroke Play
Traditional Full Blade Profile
HEX Grip
Made In England From Prime English Willow
404 
+ Seasoned bleached Grade 3 English Willow
+ Knot marks with some stain/speck
+ Fitted with treble spring cane handle
+ GM NOW! & ToeTek™ finish fitted as standard