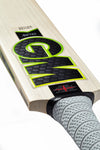 GUNN & MOORE ZELOS 404
Sale price
$99.00
Regular price
Shipping calculated at checkout.
Ultra Curve Handle/Face Profile.

Low To Mid Swell Position For Allround Power Play.

Contoured Spine Profile.

Partially Concaved Back Profile For Balancing

Terrain Grip
For help on buying the perfect bat for you, take a look at GUN & MOORE page
'How To Choose A Bat' 
https://www.playwiththebest.com/cricket/how-to-choose-your-cricket-bat.html
A traditional blade length that packs a modern punch thanks to its 'Ultra Curve' shape, enlarging the sweet spot for powerful stroke-making. The partially concaved spine profile allows for greater pick-up and balance, an all-round bat, for the all-round player. The low to mid swell accentuates the all-round capabilities, making the Zelos the perfect bat for any situation. The 2019 version of this bat was used by Dawid Malan. Available to purchase in seven grades of wood, offering a full spectrum of quality bats. Made in England from Prime English Willow.
TRADITIONAL L555 BLADE LENGTH
HANDLE LENGTH 295mm
F4.5 FACE PROFILE
ULTRA CURVE HANDLE/FACE PROFILE
LOW TO MID SWELL POSITION FOR ALLROUND POWER PLAY
CONTOURED SPINE PROFILE
PARTIALLY CONCAVED BACK PROFILE FOR BALANCING
GM NOW!
TOETEK
MADE IN ENGLAND FROM PRIME ENGLISH WILLOW
TERRAIN GRIP
404
+ Seasoned bleached Grade 3 English Willow
+ Knot marks with some stain/speck
+ Fitted with treble spring cane handle
+ GM NOW! & ToeTek™ finish fitted as standard