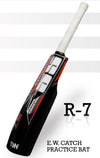 R-7 E.W CATCHING PRACTICE BAT
Shipping calculated at checkout.
Test your boundary catching & slip catching with the Catching Bat.
The R-7 E.W Catching bat features high-density foam on one side on English Willow bat. Suitable for all levels of cricket.
An excellent addition to any cricket coach's equipment bag, the R-7 E.W Catching Bat will transform the way you carry out coaching drills.
High-density foam to give the ball extreme bounce for long-distance catching drills.
The impressive bat comes with a good quality grip on the handle, ensuring coaches will always achieve an exceptional hold.
For optimal performance, it is recommend using the catching bat with traditional leather cricket balls.