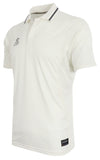 SHREY CRICKET PREMIUM SHIRT - SMALL SLEEVES
Shipping calculated at checkout.
The SHREY Premium Shirts has a cricket specific fit, engineered to move naturally with the body during sport for greater comfort.
This shirt combines style and comfort featuring mesh inserts on the sides and back with concealed button down placket.
Iso-chill fabric helps disperse body heat, making it feel cool to the touch.
This shirt is treated with N9 Pure Silver.
N9 Pure Silver neutralizes odor-causing bacteria on contact, keeping articles fresher for longer.
100% Polyester